Devil's Den - Florida Cave Diving
An Introduction
Devil's Den is a sinkhole in northern Florida that is fed by an underground spring.  It is set up as an ideal dive location and represents a unique look into the amazing underground cave networks of Northern Florida.
As seen by the crew
Untamed Science dove at Devil's Den while doing a video on the unique process of sinkhole formation.  Since Devil's Den represents an amazingly scenic sinkhole, we thought it would be great to start the video here.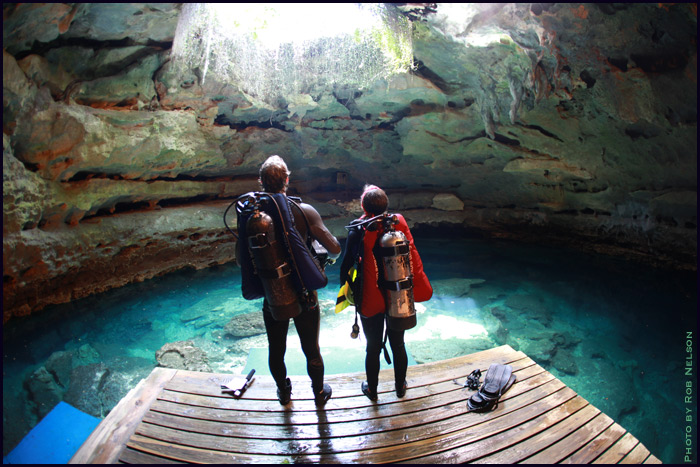 We found that we were extremely lucky to have visited the Den on a Thursday as we were the only divers there from early morning to about 3pm.  This allowed us to explore the 48 feet of depth to the floor without other divers kicking up silt.  It also gave us the chance to get some great images of the cave.
What we found was a type of upside down mushroom shape.  Before a small tunnel was built, the only entrance to the sinkhole was a small opening between two oak trees. As we enter the cave through the tunnel, we descend a couple flights of stairs before reaching the main dive platform.  From here we could dive outwards around a sunken dome.  Small grates block the inward and outward flow of water.
The wildlife of the cave is composed of small native fish including guppies, crappie and catfish.  Also of note is a giant catfish that must 50 pounds.
Other Interesting Stories about the Den
The Den is the site for many interesting fossil finds. Many of these bones are at display at the University of Florida in Gainesville. The animal remains date from the Pleistocene Age (2 million to 10,000 years ago).
Devils Den gets its name from the steam that would rise from the den on cool winter mornings.  The temperature of the Den remains around 72 degrees all year round, making for great steamy displays in the cooler months.
Contact Information
Visit the Devils Den Website to learn more about facilities and costs.
Devil's Den
5390 NE 180th Ave
Williston, FL 32696
Phone: 352-528-3344