5 Fun Earth Day Videos
We live on a vast and ever-changing wonderball! To celebrate our favorite planet (Earth, obvi), here is a collection of five Earth Day-inspired videos to brighten your day and encourage you to think: How can I help protect our world?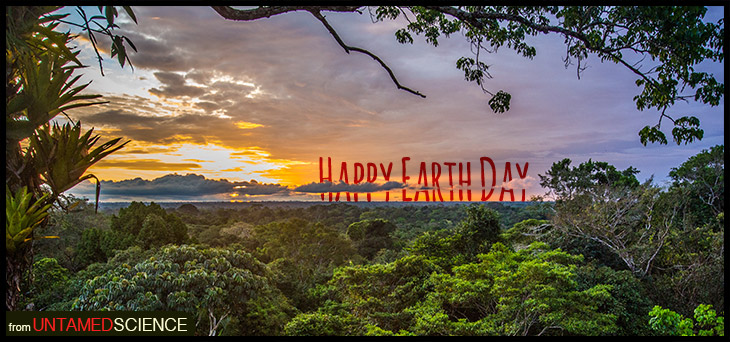 1. Science of Glowing Mushrooms
In a Singapore rainforest, Jonas and Louise search for bioluminescent mushrooms. What makes them glow? We understand the exciting chemistry here, but the benefit for mushrooms to glow in the dark is still largely a mystery. This video is from the series Tropical Molecules produced by Molecular Frontiers and Untamed Science, in collaboration with Nanyang Technological University.
2. Follow the Frog
Who gets the green frog seal? The what now? Let me explain. Only farms that meet rigorous sustainability criteria earn the right to claim the Rainforest Alliance Certified seal. The criteria address the three pillars of sustainability—environmental protection, social equity, and economic viability— and farms are evaluated by independent, third-party auditors. Learn more about Rainforest Alliance Certification and its impacts here.
3. The History of Earth Day
Did you know that Earth Day is the largest secular holiday in the world? It's true. But have you ever thought about the significant history of this day. Knowing a bit about how it all started will help you put it in perspective this April 22.
4. Why Protect the Amazon?
At Untamed Science, we're biologists at heart. We make videos that ask "Why protect large wild animals?" or "Why save the planet?" and "Why conserve water?" But we also tackle the question, "Why should we care?" Is it for the sake of natural beauty? Or economic value? In this short about the Amazon, we explore what we think is the most important reason to care: it represents the last stand of something truly wild. What do you think?
5. Natural Phenomena
Finally, here is just some gorgeous imagery. Shots like this never get old, and you could spend your whole life in awe of moments like this all over our planet. Enjoy.
More Earth Day Videos
Subscribe to the following YouTube channels for more of our videos:
Also, we invite you to learn more about our dedicated team of scientists and filmmakers who bring you this content every week.