Science and Wildlife Filmmaking Schools
Today there are several ways educate yourself in the art of science filmmaking. In this little article I'll walk you through some of the key players in the industry, but first here is a short explaining the pros and cons of actually attending school for science filmmaking.
Schools
Going to school to become a science filmmaker was unheard of before the turn of the 21st century, but today there are a few different schools that offer courses to get you started in the field. Each offers a slightly different perspective and thus is worth looking at for its strengths and weaknesses.
Montana State University: Science and Wildlife Filmmaking Program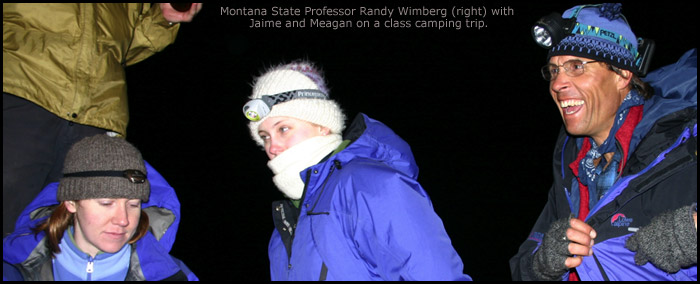 The Science and Natural History Filmmaking Department at Montana State University offers the most rigorous program of this type in the United States. It is a three-year, terminal degree program in the fine arts, after which you receive an MFA. Graduates pursue filmmaking careers and are also qualified to teach at the university level.
Each new group of students accepted into the program forms a "cohort," 12-15 people who will go through all classes, projects and other assignments together. The first two years of the program are spent doing coursework in Bozeman, creating tight bonds among those that know each others' work and progress intimately. In the second year, a film project is require. The third year ends with a thesis film and a written Master's thesis paper.
Learn more about all the specifics of the MSU program at naturefilm.montana.edu.
The benefits of a program like this:
First, there is no better way to jump-start a career than to start living and breathing science filmmaking with people as passionate as you. The relationships with filmmaking colleagues and professors a student will be interacting with on a daily basis will last their whole career. Secondly, this program is academically rigorous. It helps students think about filmmaking from different points of view. "Why are we making these films?" and "What really is nature?" are common philosophical questions in the program. Too many filmmakers, it seems, make their films without paying attention to these larger questions. Finally, students from the program have consistently proven the worth of an MSU degree by making some quality films and will help you get a job. Historically, NASA, Smithsonian TV, and National Geographic have acknowledged the quality of the MSU student. That's a good thing in a small field like science and wildlife filmmaking.

The negatives:
Any student that is looking into a program like this should also know the downsides. In reality, this program, unlike other academic fields, is not paid for by grants from professors. Students pay their tuition which, over the course of the entire time there and with other costs added up, may be somewhere in the 70K to 100K range. Most students apply for and get student loans. This financial burden can weigh heavily on young filmmakers after their degree. In-state tuition costs are lower. Student's should also remember that they won't have a job for the better part of those three years, so there will be little money coming in to offset the costs. Fortunately, the program has implemented some tuition wavers and financial assistance for graduate teachers. But, this is a career move, so it is a great way to jump-start one's job potential.
From a filmmaking perspective, the program's goal is to train producers and directors. If your interest lies in becoming a cameraman, sound recordist, or host, there may be better options for you. With that said though, some of the best cameramen, sound recordists and hosts I know came out of the program. That may in part be that specializing in the program like this makes you valuable with all the student projects happening. You become the go-to person and have a lot of networking potential.
Montana State University is also a long way away from almost everything. Flights in and out of Bozeman tend to be expensive, so travel on a student budget is limited. Bozeman also has a higher cost of living, considering US averages. Plus, Bozeman is a small town saturated in science filmmakers. To successfully get a job post-degree, most graduates will have to leave Bozeman. (*UPDATE* The school contacted me recently to remind me that flights aren't as much as they once were, and that there are lots of good jobs in Bozeman. That's all probably true, but it's still a tad higher than other places.) 
Example Films from the Program
American University

American University is a fair competitor to the Montana program. It's based in Washington, DC, and is directed by the market-savvy Chris Palmer. One selling point for this school is that it is in the same city as National Geographic, Discovery, and the Smithsonian channel. It is a great way to get close to some of these production houses and start producing films.
University of Otago

The University of Otago offers a one-year postgraduate diploma in Natural History Filmmaking and Communication or a two-year Master of Science Communication. Based in Dunedin, New Zealand, this program has a close partnership with Natural History New Zealand (NHNZ), one of largest the producers of factual television.
Taught by a mix of academic and industry professionals, the classes are geared toward a range of film and communication theory and hands-on practice. The first year is spent on five classes, or papers, ranging from storytelling to editing and camera techniques. The second year is spent producing a commercial-length film and writing a thesis. (If opting into the one-year program, a short film is created in lieu of a commercial-length, and the thesis is omitted.)
The classes are limited to 12 students a year, which creates a fun and intimate dynamic. And the relationship with NHNZ is particularly beneficial, as students get an insiders perspective on the industry.
Benefits
Access to NHNZ and working industry professionals are valuable aspects of this program as it exposes the students to the working reality of the natural history filmmaking industry. The course instructors tend to have a long history with filmmaking and science communication outside of a university setting, which adds to the real-world perspective. Additionally, artists, writers, photographers, and other creative professionals are invited to be guest lecturers.
Students get a crash course in production, and within two years, they will have producing, sound, lighting, and editing experience under their belt. Unlike the MSU course, the Otago course focuses more on technique and practice over theory. This tends to lead to edgy, industry-relevant films, rather than classic blue-chip pieces.
The location of the course—the south island of New Zealand—is a nature-lover's dream, with rainforests, mountains, glaciers, oceans, and farmland within a two-hour drive.
Negatives
Unlike some Master's courses, there are very few grants available for this type of study. As an international student, tuition can be expensive.
The classes and instruction are not as structured as typical Masters programs in the US. Students have access to great mentors with great experience but must be willing to hustle and go above and beyond to take advantage of it.
Dunedin is the hub of Natural History Filmmaking; this creates a great community but saturates the job market. In an industry based on who you know, international students may find that the New Zealand-based connections they create during the program may not be of assistance as they initiate careers in their home countries.
Other schools
A few other schools have popped up that give degrees related to wildlife filmmaking. Here are a few to consider.
Offers post-graduate degree in Wildlife Filmmaking. This course is taught in Bristol, a current hub for wildlife filmmaking in the world, and thus has some very good instructors to teach the course. It's step in the right direction if you want to make this your career and live in England.
Offers an MSc in Science Media Production. This school has a reputation for being a bit old-school and is centered around traditional broadcast and journalism.
Non-School Options
If you're not interested in actually enrolling in a filmmaking program, you can learn in other ways. Film festivals, such as Wildscreen and the Jackson Hole Wildlife Film Festival, offer great workshops and panel discussions. It's an alternative way to get into the industry. At these festivals you may just run into the right people and land an internship with someone like National Geographic! Then you're learning by doing!