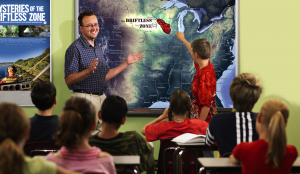 In the wake of our documentary Mysteries of the Driftless winning the Emmy for the top documentary in the Midwest, being distributed regionally on PBS television, at screenings, during film festivals, and on thousands of DVDs, we've had repeated requests from schools and teachers to expand the intriguing learning opportunities about the science, nature and history of the Driftless Area.
To meet that educational demand along with the new paradigm in delivering online films and companion science lesson activities, Untamed Science is partnering with Into the Outdoors in filling the void of developing and distributing educational materials about the Driftless Area. Using the combined impact of their successful creation, promotion and distribution of educational films and companion lesson activities for classrooms, they are developing a new series of topic-specific educational programs about the Driftless Area.
Engaging Classroom Materials – The program will create and distribute STEM (science-technology-engineering-math) focused films and companion lesson materials for middle and high school levels while meeting media and lesson standards in education. In promoting and distributing these educational films and companion lesson activities, they will be using their established partnerships with educational organizations and institutions across the nation.
Driftless Topics – Each Driftless science, nature, or history topic will be developed as individual educational modules for free online distribution to teachers, students, and classrooms. Potential topics about the Driftless will be developed that may include;
Effigy mounds – Native American History, Archeology
Cave Art – Native American History, Archeology
Caves, Sinkholes – Karst geology
River Ecosystems – Kickapoo, Root, Mississippi
Rare Ecosystems – Algific Talus Slopes, Goat Prairies
Springs – water cycle and cold water resources
Environmental – Land use, planning, conservation
Glaciation – glacial geology and natural history
Rare Species –Peregrines, plants, reptiles, invertebrates
Educational Materials being developed for each topic include;
Design and production of a 5-7 minute film per educational media standards
Concept, writing, graphic layout and creation of one middle school, and one high school lesson activity that companions the film topic. Each activity will be written by a qualified science teacher according to educational standards.
Creation of topic educational web pages on UntamedScience.com and IntotheOutdoors.org and partnering institution websites. Website content will include;
STEM educational information and graphics about the topic
Webcasting of the topic film
Free download of the middle and high school PDF lesson activities
Listing of URL educational resources
Underwriter logo, URL, and credits
An example of these educational materials can be viewed on the Into the Outdoors Education Network at http://intotheoutdoors.org/topics/the-driftless-area/
If you're interested in supporting our educational team to help develop specific topic science films and classroom lesson activities in this new Driftless Education Program, please email danbertalan@gmail.com.
To provide educational background for this new series of Driftless films and lessons, we've provided online viewing of our Mysteries of the Driftless documentary that you'll find below. As you watch the film, you'll discover what strange forces saved this one isolated section along the Upper Mississippi River from the repeated crushing and scouring effects of glaciers during the last two million years. You'll also find out what pre-ice age throwbacks survived here in this unique geologic refuge that holds more Native America effigy mounds, petroglyph caves, strange geology features, and rare species than anywhere in the Midwest. But you'll also discover that there's much to still be explored and learned within the Driftless. One film simply isn't enough.
Untamed Science is extremely grateful to the support of Tim Jacobson and George Howe who served as Executive Producers in this initial film project. We also wish to recognize and thank the other supporting partners noted below, as well as the on-camera scientists and experts who helped reveal nature's mysteries within this remarkable area.
Organizations that supported production of the film:
Mississippi Valley Conservancy
Untamed Science
Wisconsin Public Television
Riverland Conservancy
Iowa Natural Heritage Foundation
The Prairie Enthusiasts
Current Designs Kayaks
La Crosse Community Foundation
Gundersen Memorial Fund
Vernon County Tourism Council
Radisson Hotel La Crosse
Paul E. Stry Foundation
Coulee Region Trout Unlimited
Franciscan Sisters of Perpetual Adoration
D. B. Reinhart Institute for Ethics in Leadership
NewGround, Inc.
Visjonær Consulting & Communications
Where is the Driftless Zone?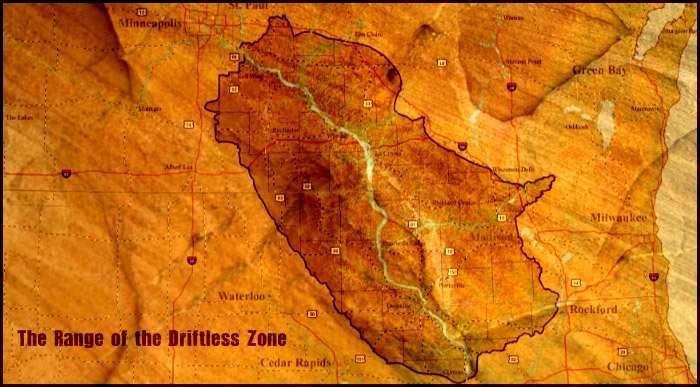 Mysteries of the Driftless is a documentary about a team of explorers and scientists kayaking down deeply cut tributary valleys, flying in ultralights, and climbing rocky bluffs to reveal answers to the mysteries within the driftless area. Their journey will expose both the science and threats behind three unique features of the zone – rare plants and animals, odd geological phenomenon, and striking remnants of a Native American pilgrimage like no other.
What these explorers reveal will not only give the audience a greater appreciation for the unique diversity of this "island of land" that escaped glacial scouring, but will inspire a greater appreciation for this amazing area. The goal is not to answer all the mysteries, but to document the exploratory process for the viewers. In the end, the film will ignite the curiosity of viewers to discover more about the area for themselves.

Lead by two award-winning filmmaking scientists, biologist Rob Nelson and geologist Dan Bertalan, this team of explorers will reveal the majesty and allure of the driftless area using a stunning combination of documentary filmmaking techniques blended with genuine adventure. The team will also include; noted authors of Native American archeology Robert Boszhardt and Dr. James Theler to further document archeological remnants found along the steep bluffs, geography Professor Jim Knox to help decode the driftless geologic mysteries, and driftless ecologists Darcy Kind, Armund Bartz, Tim Yager, and Abbie Church investigating the numbers and health of rare species that have persisted here for over a million years.

Caves in the Driftless