The Blue Shark
Prionace glauca
There are many different sharks living in our vast oceans, and they have a wide range of shapes, sizes, life cycles, and diets. However, today we are talking about one of the most abundant and widespread of these beautiful and diverse creatures: the blue shark.

What is a blue shark?
The blue shark (Prionace glauca) is a long and slender predatory shark with a lengthy yet rounded nose. An adult blue shark can grow up to 12.5 feet (380 cm) long! The females are usually between 5.6-7.2 feet long (173-221 cm), and the males are 6-12.5 feet long (182–380 cm).
Their coloration can be described as indigo blue along their dorsal area (upper part of their body), with metallic blue flanks (their sides), and a bright white underside. They also have very large, round-shaped eyes, and of course, a lot of teeth.

Where does a blue shark live?
The blue shark is one of the most abundant shark species within the pelagic zone of the ocean (open water away from the coast). This means they usually are found away from the coastline, unless the continental shelf is particularly narrow in that area.
As well as being the most abundant shark, they are the most wide-ranging. Blue sharks can live in both temperate and tropical waters, which range from 53.6ºF-68 ºF (12-20 ºC). The geographical range of this abundant species is from latitudes of 60 ºN and 50 ºS! Because of this, blue sharks are found off of every continent except Antarctica. In terms of vertical range, they can be found from 350 m in depth all the way to the surface.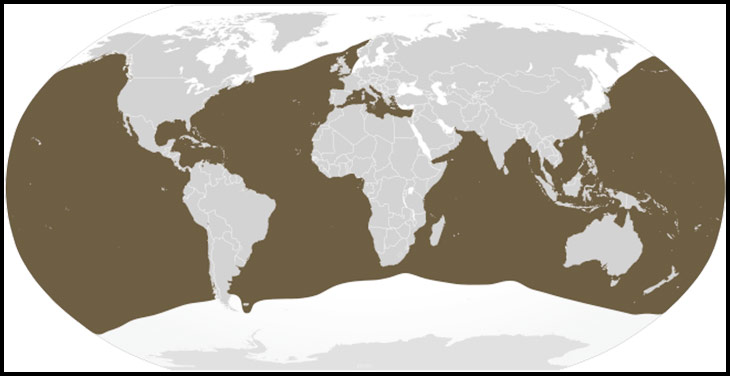 What do blue sharks eat?
Blue sharks can be considered apex predators within their ecosystem, meaning they are at the top of their food chain. The blue shark is a more active hunter at night, but they have been observed feeding throughout an entire 24-hour period. Their primary diet consists of small fish that live in open water or on the ocean floor, invertebrates (such as squids), other small sharks, and even seabirds!
What is the life history of the blue shark?
Since the blue shark is so widespread, the exact timing of their life cycle varies depending on the region, but the general story is the same. The blue shark has a long life and can live to be 20 years old. However, they sexually mature (can mate and produce offspring) between the ages of 5-7 years for females and 4-6 years for males.
Blue sharks have very complex and lengthy migration patterns (which can include transatlantic migrations!) for a few reasons. First, females and males tend to spatially segregate throughout most of the year; they live in different parts of the ocean except for when they come together to mate. Secondly, after mating, females migrate to new areas to give birth to their pups (baby sharks). Lastly, tracking data has also shown us that blue sharks of different ages/sizes do not reside in the same areas, so after giving birth female adults will also leave that area.
Once mature, the two sexes will come together once a year to mate. Female blue sharks are able to breed every year, although it is uncertain if they always do. During courtship, the males will bite the females repeatedly, which has resulted in females having skin three times as thick as males!
Interestingly, after mating, female blue sharks can store a male's sperm to delay fertilization until the time is right! Once the eggs are fertilized the gestation period is between 9-12 months; this is how long it takes the offspring to develop. The variance in gestation period is due to the fact that the mother sharks can also delay the birth of their pups to make sure they are born in the ideal environment. Blue sharks are what is called "placentally viviparous" which means the young develop inside of the uterus and are born live, just like in placental mammals! Litter sizes average around 30-35 pups but can be as large as 135! They are born at around 14-20 inches long (35-50 cm), and they will reside in their "nursing grounds" for around two years before beginning to segregate, based on sex, and move to new habitats that better suit them.
Are blue sharks dangerous to humans?
Sharks tend get a pretty bad reputation with humans as dangerous death machines, but how dangerous is the blue shark really? Well, the blue shark is one of the most abundant sharks out there, but according to the International Shark Attack File (ISAF), there have only been 13 unprovoked shark bites from blue sharks, 4 fatal, since the year 1580, a relatively low rate for a span of 438 years. Blue sharks have also been described as "curious," and they will approach humans without much hesitation, helping to illustrate that they bite and/or attack rarely when compared to the number of encounters with humans. Now, this is not to say that you should not be wary of sharks and respect their distance in the wild, but we should also understand that they are not the bloodthirsty monsters that the media may portray.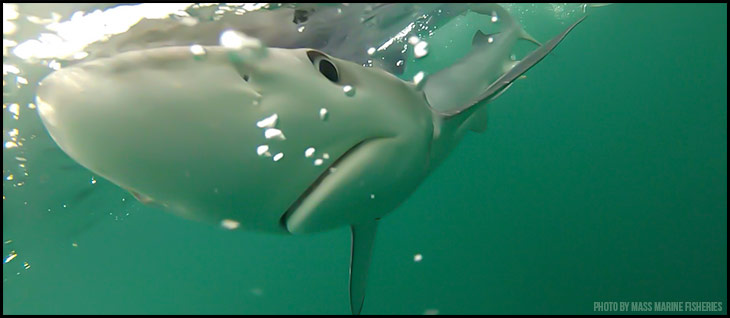 How are blue sharks important to their ecosystem?
Since blue sharks are at the top of their food chain, they are very important in regulating the ecosystem in which they live. Apex predators help to control populations of the different organisms that they eat, which generally allows for greater biodiversity, because competition between different prey species is not as intense with lower numbers of individuals. If an apex predator is taken out of an ecosystem, the species it preys upon may have the potential to increase to higher levels than normal, which can cause many problems.
First, it increases the competition and pressure on other species that share the same habitat and maybe eat the same food as that prey species, which can cause declines in the other species. Secondly, the prey species itself can lead to its own demise through multiple mechanisms, such as an increase in disease with a greater population size, or the potential for the population to grow large enough to wipe out their own food source, and later crash to very low numbers, or possibly go extinct.
What threats are there to the blue shark?
Blue sharks are large and powerful apex predators, so what do they have to be afraid of? Similar to many aquatic species, the blue shark is vulnerable to various different natural predators when it is in its juvenile stages, when they are a bit more snack-sized. Additionally, there are some that claim orcas also feed on mature blue sharks, but the most commonly used report in this claim was unable to specify what exact species of shark it was… so the jury is still out.
The largest threat to the adult blue shark is, you guessed it, humans. Blue sharks are under threat from intentional harvest, sport fishing, and from by-catch, organisms that are caught and killed accidentally when humans fish for another species. However, sport fishing is likely the lesser of these threats as shark catch-and-release survival rates have shown to be upwards of 90% in some sharks. Additionally, there have been restrictions put on the harvest of blue sharks (see below), but they are still harvested in much of the world for their meat, primarily their fins.
What is the conservation status of the blue shark?
Currently, the blue shark is listed as Near Threatened by the IUCN. The species does not meet the criteria of being vulnerable, or worse; however, with the current available data and population trends it is likely to be moved into a worse category in a short amount of time. It is thought that perhaps the blue shark is quite resilient to fishing pressure, as they have large litters of pups and are so widespread, but their long lives and slow maturation may also make them vulnerable to extinction. Additionally, there is some evidence of decline of populations over the years, which may illustrate that they are indeed threatened by human harvest. Due to this uncertainty, the IUCN website and other wary scientists say that the blue shark needs to be re-evaluated and possibly placed in a different conservation category, after better information is collected on their population status and biology.
With this information you may be curious, why is the status of the blue shark so uncertain? First off, marine organisms are extremely difficult to get accurate data on, as you could imagine, because they are in the ocean and difficult to observe. Most of the data that we get on population numbers for sharks, and other marine organisms, comes from the "catch per unit effort" or CPUE; which essentially is number, or total weight, caught per amount of fishing effort (boats, hours fishing etc.) on that species. Usually this number is calculated from intentional and accidental harvest. There are many problems with this method that make marine populations difficult to estimate, including the fact that a lot of harvest, whether accidental or intentional, does not get reported to the organizations that are taking the data.
Another issue with tracking blue sharks is due to their intense migratory patterns that were mentioned earlier. A lot of research has been done on how much these sharks move, and where, but there is still a lot of uncertainty in this area, adding to the difficulty of knowing how many there are, where they are, and how we can best protect them.
What is being done for the blue shark?
For sharks in general, there is a rising awareness and support for the need to protect them. Many countries are doing their part by setting up "shark sanctuaries," areas that completely ban fishing of sharks. Other countries have at least banned shark finning, requiring fisherman to return with and use the entire carcass of a shark, which helps to reduce overall catch of sharks. Additionally, many nations have set up more general Marine Protected Areas (MPAs) that help protect the crucial habitat of many marine species. There has also been a rise in the commitment of governments and scientists to better track fishing practices to allow for more sustainable fisheries worldwide.
Though there are issues with many of these practices, such as loopholes around fishing regulations, non-compliance (ignoring fishing regulations), or MPAs not being large enough to protect all of the sharks' habitats, the efforts to begin more sustainable harvesting practices and to protect sharks is on the rise.
How can we help the blue shark?
First off, increasing education about sharks and their importance to our oceans is key to increasing support for their protection. We can also increase shark protection by advocating for government officials and parties to implement policy that allows for sustainable harvest and trade of sharks in their waters. Additionally, joining conservation organizations such as Shark Defenders can help to show support for sharks and help to spread education for shark protection awareness. Shark Defenders also has some more tips on their page on how you can help sharks, such as ecotourism with sharks in countries that support shark conservation or reducing consumption of shark-related products.
Related Topics