The Invasive Plant, Hydrilla
Hydrilla verticillata
An Invasive Aquatic Weed
Hydrilla is an invasive weed in the United States and many areas of the world.  It is thought to be native somewhere near India, but now it has a circumglobal distribution.
Description
This plant normally has leaves in whorls of 5. It also has serrations or small spines on the midrib.  When fresh, the plant has a slight reddish tint. Hydrilla is considered the most problematic aquatic plant in the United States, partly because of its fast growth and its ability to regenerate from tubers and fragments.
Where is Hydrilla found?
Hydrilla has been recorded in drainages from more than 18 states. This data (below) from September of 2003 shows considerable coverage in southern states such as Texas, Louisiana, and Florida.  Some areas have had success eradicating the weed, but it still remains a big problem.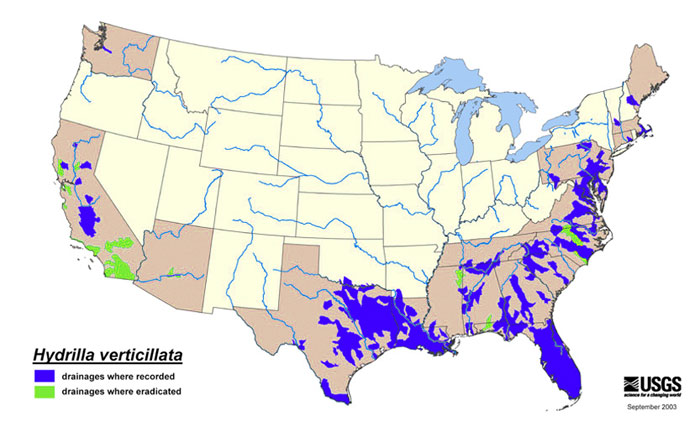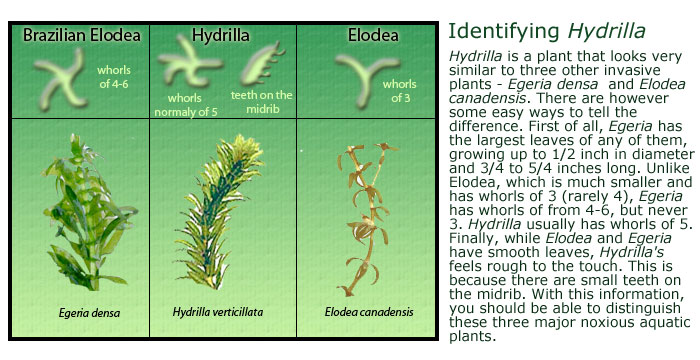 Biocontrol Efforts
Biocontrol efforts have been extremely successful due to the introduction of a small fly native to Pakistan. This fly, which is believed to be one of the native predators of Hydrilla, is allowing native populations to compete with this invader.
The larvae of the fly bore through the plant, which decreases the plant's growth and health just enough to allow native plants to compete in watersheds. One place it has been very successful is in the Rio Grande in southern Texas.
Crew Experiences
Rob Nelson: For three years I worked at as a researcher at an aquatic plant research facility in North Texas (LAERF) trying to help understand both how native systems are effected by invasive plants and how to control the spread of these invaders. Probably the worst aquatic plant we had to deal with was Hydrilla. Hydrilla can withstand a drawdown (no water in a pond) for several years; it can withstand intense heat; and it is impossible to get rid of by mechanical extraction alone. We tried chemical means which unfortunately kill the natives as well. We finally tried to examine biocontrol as a viable option to reduce plant stock.
For several years, different controlled and isolated experiments on Hydrilla were conducted with an introduced fly from Pakistan. This fly had larvae that drilled into the hydrilla stems and essentially caused the entire plant to be so severely disabled that it could no longer compete with natives species.
Today the research that has been done through the Army Corp of Engineers in Lewisville and in Vicksburg, Mississippi, has concluded that the fly poses no danger to native populations, and has thus been introduced to several lakes and rivers. One of the best examples of this is the infestation of the Rio Grande River, which has now been successfully controlled.
Links to more information
---
For more information on this plant or management please contact the US Army Corp of Engineers
Additional Videos by Untamed Science
Related Topics