Hiking Palolo Valley and Ka'au Crater
One of my favorite hikes in the islands is Ka'au crater in the back of Palolo Valley. When I was here as a graduate student I learned about this hike. It is not listed in any guide books as you have to walk through some private land and then pass some of the government no-tresspassing signs. I only list it here so that I have a link to direct friends to when they ask for the best hike in that area.
Getting to the trail head:
To get to the base of the hike you'll need to drive up 10th avenue in Palolo Valley. Take a right turn towards the back of the valley at Waiamao Road. Follow it all the way down the road until it becomes a narrow single car road and past the Korean temple. When the sign says NO trespassing stop and park your car. If there is no parking here, because of residents, park further back down the road and hike up. I suggest carpooling out of courtesy to those that live up there. Pass the first sign on the road that says no trespassing. The road will split in two. Stay to the left and do not go up the hill. You will pass two houses. Be quite here. If the residents greet you just ask them politely if you can do the trail. You can't do it without their consent. If they don't come out, just hike up to the first fence. Walk around the fence and you're on the trail.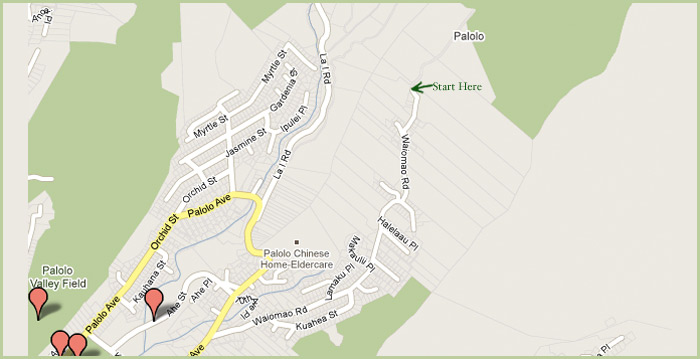 The trail
For the first 45 minutes you follow a water line made by the state. It will take you almost all the way to the first of the three major water falls. Once you get to here stop and relax and continue around to the other two. At the third waterfall you'll be climbing up the waterfall itself with ropes. Its not a hike for the weak of heart.
Once at the top of the trail, we recommend that you hike all the way to the top of the ridge. That might take you another hour. In total the climb to the top took us about 3 hours going pretty slow taking photos etc. It took 2 hours on the way home. All in all I guess its about 7 miles round trip. Great hike. If anyone does the hike, leave a comment here and let me know what you think.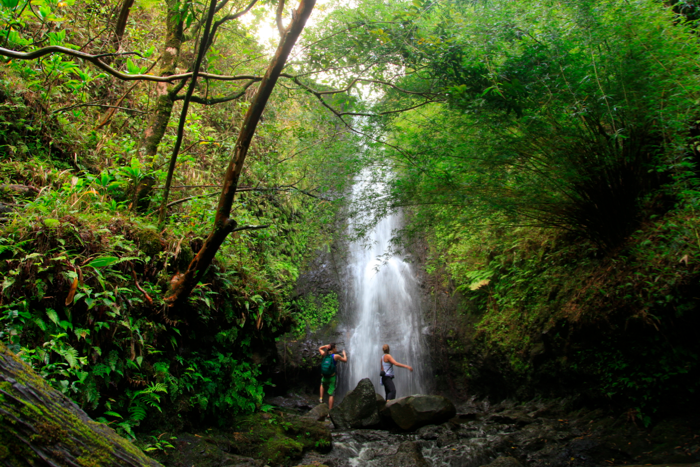 Video of the Hike from Rob Nelson
The following video was taken by me in 2001. Its old and a bit silly, but it'll give you a good overview of the hike.
http://blip.tv/play/geMCl5xhAA