Hunter Farm - A Shout Out For a Helpful Location Shoot
Where does your food come from? If you've taken a trip to the Hunter Farm you'd know that all our food comes from the farm. They actually have a program for school students in the Charlotte area to come to the farm, milk a cow, feed sheep and pick pumpkins.  If I was a kid, this would be an awesome little field trip.
A short video update from UntamedScience
We visited the farm in early October and thought we'd show you a few highlights from the trip in this short video update from the Hunter farm.
http://blip.tv/play/hJw5goLjfAA
Where is the Hunter Farm Located?
The farm is located in Weddington, NC just south of the 485 loop in Charlotte. The following map shows the approximate location.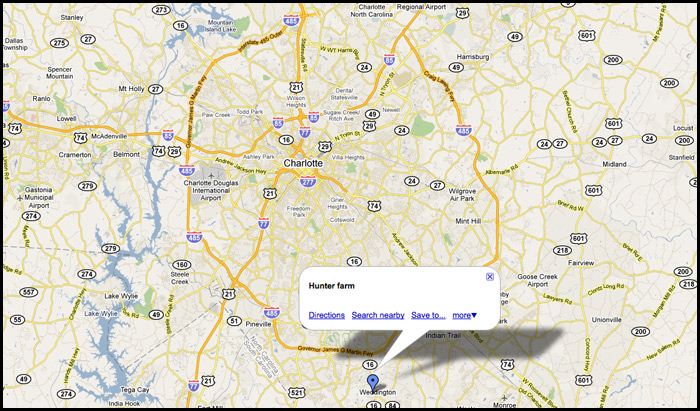 How do I book a school group through Hunter Farms?
The best way to get a hold of the farm is to go through their official website: www.thehunterfarm.org
More About the Untamed Science Faces in this Video

Rob Nelson: Rob is both a marine biologist and filmmaker by training. He has been an active guiding force in Untamed Science since the idea to teach and inspire first occurred to Rob. He now leads the pod-casting efforts, world biomes site, and biodiversity pages. He also stars as an on-camera personality in many of the episodes of the new Bio-Adventures DVD that is being produced with Pearson Publishing. Rob is an active Scuba Diver and Extreme Sports junkie … more on Rob.

Haley Chamberlain: Haley is one of our on-camera Ecogeek faces. She is both a biologist and actress by training. As anecogeek she has been in charge of our elementary science programs and music videos. Her passion for music and learning have gone far beyond her on camera presence however. Haley travels extensively to schools around the country giving shows about science to students of all ages. Read more about Haley