Family Sciuridae - The Squirrels and Relatives
The squirrels belong to a family of rodent known as the Sciuridae. They are often referred to simply as the sciurids or "shade-tails."  There are approximately 280 species of sciurids that are found on all the continents except for Australia and Antarctica.  Common members include the tree squirrels, ground squirrels, chipmunks, marmots, woodchucks and the true flying squirrels.
Classification
The following diagram show the phylogenetic relationships of the major groups of squirrels.

There are roughly 52 genera of squirrels. We've listed them here to better help you navigate to the squirrel group that interests you the most.
Subfamily Ratufinae – Oriental giant squirrels
Subfamily Sciurillinae – Monotypic
Sciurillus pusillus – Neotropical Pygmy Squirrel 
Tribe Sciurini – Tree squirrels (in the subfamily Sciurinae)
Genus Sciurus – Gray Squirrels, Fox Squirrels, Red Squirrels (30 species)
Genus Rheithrosciurus – Tufted Ground Squirrel (Rheithrosciuru macrotis)
Genus Microsciurus – Drawf Squirrels of Central and South America (4 species)
Genus Syntheosciurus – Bangs's Mountain Squirrel (Syntheosciurus brochus)
Genus Sciurillus – Neotropical Pygmy Squirrel (Sciurillus pusillus)
Genus Tamiasciurus – American Red, Douglas and Mearns's Squirrel (3 species)
Tribe Pteromyini – True Flying squirrels (in the subfamily Sciurinae)
Genus Aeretes – North Chinese Flying Squirrel (Aeretes melanopterus)
Genus Aeromys – Large Black Flying Squirrels of Thailand and Borneo (2 species)
Genus Belomys – Hairy-footed Flying Squirrel (Belomys pearsonii)
Genus Biswamoyopterus – Namdapha Flying Squirrel (Biswamoyopterus biswasi) – India
Genus Eoglacomys – Kashmir Flying Squirrel (Eoglaucomys fimbriatus)
Genus Eupetaurus – Woolly Flying Squirrel (Eupetaurus cinereus) – Kashmir
Genus Glaucomys – American Flying Squirrels (2 species)
Genus Hylopetes – Southeast Asian Flying Squirrels (10 species)
Genus Iomys – Javanese and Mentawi Flying Squirrels (2 species)
Genus Petaurillus – Pygmy Fl ying Squirrels (3 species) Borneo and Malaysia
Genus Petaurista – SE Asian Giant Flying Squirrels (8 species)
Genus Petinomys – SE Asian Flying Squirrels (11 species)
Genus Pteromys – Siberian and Japanese Flying Squirrels (2 species)
Genus Pteromyscus – Smoky Flying Squirrel (Pteromyscus pulverulentus) – Borneo and Thailand
Genus Trogopterus – Complex-toothed Flying Squirrel (Trogopterus xanthipes) – China
Tribe Callosciurini – Asian ornate squirrels
Tribe Funambulini – Palm Squirrels
Genus Funambulus – Palm Squirrels (5 species)
Tribe Xerini – Spiny squirrels
Genus Atlantoxerus – Barbary Ground Squirrel (Atlantoxerus getulus) – Algeria, Morroco
Genus Spermophilopsis – Long-Clawed Ground Squirrels (Spermophilopsis leptodactylus) – Iran area
Genus Xerus – Sub-saharan Africa Ground Squirrels (4 species)
Tribe Protoxerini – African Squirrels
Genus Epixerus – Western Palm Squirrel (E. ebii) – West and Central Africa
Genus Funisciurus – Rope Squirrels (9 species)
Genus Heliosciurus – Sun Squirrels (6 species)
Genus Myosciurus – African Pygmy Squirrel (M. pumilio) – Cameroon, Congo, Guinea, Gabon
Genus Paraxerus – Bush Squirrels (11 species)
Genus Protoxerus – Forest Giant and Slender-tailed Squirrels (2 species)
Tribe Marmotini – ground squirrels
Genus Ammospermophilus – Antelope Squirrels (5 species)
Genus Cynomys – Prairie Dogs (5 species)
Genus Marmota – Marmots (14 species)
Genus Sciurotamias – Chinese Rock Squirrels (2 species)
Genus Tamias – Chipmunks (25 species)
More about Squirrels
The following show a typical squirrel skull.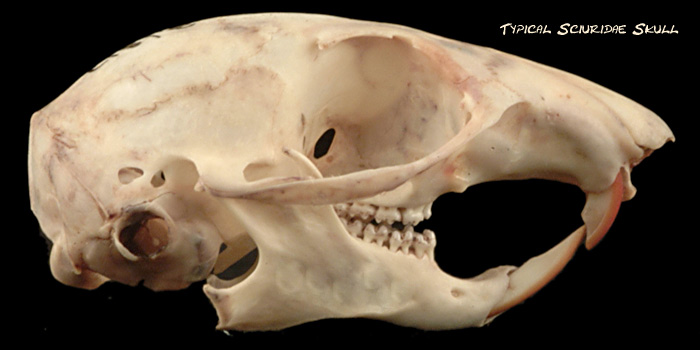 Species listed under Sciuridae