How to make better videos for Instagram
Taking Your IG Science Videos to the Next Level
Let me be honest from the beginning. We all probably know that having followers and an audience on any platform gives you a voice. It gives you some degree of influence. It can leverage you a job. It can help you keep your job. It can help you get your message out there. But, I'm sure you already knew that. If you want to use social as a way to reach out, it's good to keep that in mind. Instagram is a place to connect with and share your ideas with a large group of people and it's perfect for scientists to reach the public. But, if you're going to use it as an outreach platform and not just a place to post family photos and pictures of your last meal, you may as well use it well.
A Quick Background: Why I want more scientists to step up.
I'm a science filmmaker, a handy new title I added some ten years ago when all I could call myself was a scientist. I don't like the title of TV host much either, as it implies that's all I do. The truth is I'm in the game of educating the public about science. The networks have often been accused of taking a seedy route in their portrayal of science – something I commented on here. I think the only way to take the wheel back in favor of good science is for more of us to learn the trade. Everyone needs to learn how to tell good stories.
I use social media as a tool to tell stories about animal behavior, ecology, biology and the scientists that study the natural world. While I do have a long term Citizen-Science white squirrel research project, I have mostly skewed away from data collection to public education about science.
As I've progressed in this career of trying to tell better science stories, I've seen the need for some basic education of scientists. First, every researcher should know how important media is in this day and age. Whether or not they take advantage of it is their choice. Second, they should know the basic skills involved in doing that. I'm always surprised when they resist my media nudges and always encouraged when I see those smart ones use it to their advantage. I wrote this science filmmaking book so that I could direct people to extra reading material. For those that don't like to read, here is my point in a snappy and video-friendly way.
I went on (with Jonas) to make an entire How-to-Make-Science-Films Youtube channel aimed at teaching scientists and educators how to get started with this toolset. As a shameless plug, I highly encourage a browse through those if you want to take your video to the next level. This crowd is exactly why I made them. But enough about my background. You get it. I love video. Let's get to Instagram.
How Instagram Video is different
Instagram is hot right now, and a great platform to tell stories – both via pictures and videos. Making videos for Instagram specifically does have differences, but I don't think it changes the filmmaking formula. First, you need to think about your audience. How will they see it and the message you want to deliver? After you've nailed those down, work backwards. With Instagram, these things stand out.
Your viewer is likely going to be on a phone
Your audience is generally younger (but getting older).
The attention span of a "swipping viewer" is short (so make it catchy)
You'll need to think vertically if you're going to mix the video into the "video stories."
Recently Instagram has integrated video a lot more and while the platform still is mostly a picture sharing application, you'd be wise to start using the video features of Instagram if you want to set yourself one step above the rest. And let's face it, that's the point if you're going to get your message out. You want to stand out as someone that has something interesting to share.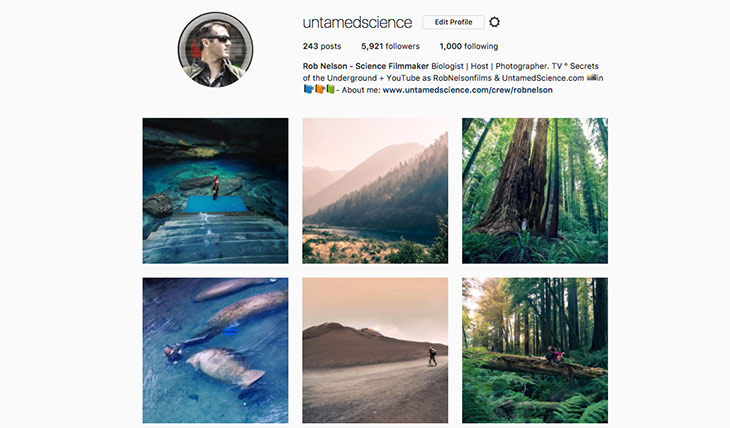 There are two forms of video you can add. You can add up to 60 seconds of video right into your feed, or you can use video in 10 second chunks in the story function of Instagram. Those stories disappear in 24 hours, so it encourages things that are easy for people to produce and give that wonderful, "behind-the-scenes" feel. I'm going to talk specifically about the videos in the story feature.
How to Make these Instagram Stories with Video
Lately I've been putting together fun Instagram stories that combine a lot of video into the mix. They also tell a nice story. I captured a story I made last week and put them side by side into this GIF
I tried to tell a simple story instead of just mixing in random clips. The real magic though happens after I think about the story and start mixing them together in my editing programs. I made this video specifically to show you how to do that.
But to start, you can begin telling your Instagram stories without editing them at all. Tell your larger story in small 10 second chunks and piece it together at night, after your field sessions. The key is that you start trying to think of these stories as a tool to tell others about your research. While shooting those random shots of your research is fine, if you want to take it to the next level, you'd be wise to start improving your video with some of these tips.
I hope that helped. If you make a fun video story on Instagram, tag Jonas (@behindthescience) and I (@untamedscience) in the post. That way we can see it and follow your work! We're always excited to work with others that like to communicate science.
Rob is a cofounder of UntamedScience.com and author of "how to make science films." He teachers courses for science filmmakers and has hundreds of videos on their "how-to-filmmaking youtube channel. Check them out and don't be shy to reach out to them and say hi.