Gopher Tortoise Dung Researcher Amanda Hipps
Could you summarize what you do now?
I'm a master's student at Florida Atlantic University studying the animals that depend on gopher tortoise burrows, called commensals. Although I am interested in all commensal animals in southeast Florida, I'm gearing much of my effort into looking for a number of insects. Some species of insects feed only on gopher tortoise dung (yeah, they might eat poop, but they're picky about what kind). These insects are providing dung removal services in the burrows, potentially benefiting tortoises by reducing pest flies and parasite loads. We don't know much about them including their range and habitat requirements, so I want to determine which species can be found in Southeast Florida and in which habitats. Although this is my master's thesis project, my advisor, Dr. Jon Moore, has ongoing projects that I assist with. He has been monitoring gopher tortoises at one site for over 17 years and seems to know these animals on a first name basis.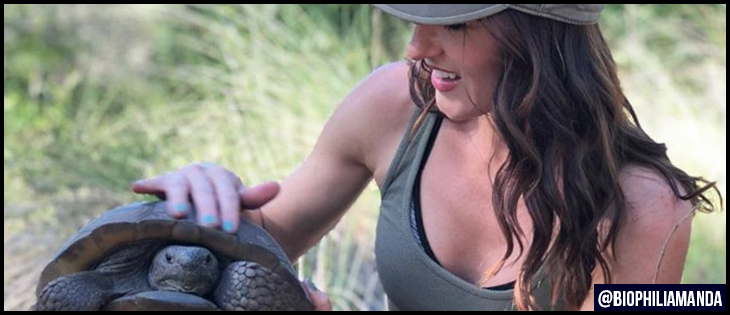 What does a typical field day look like?
Dirty, sweaty, and digging through lots of tortoise poop! I have six field sites along Southeast Florida so I spend a lot of time driving. While at a field site, I use a camera scope to see if any vertebrate commensals, like snakes or frogs, are hiding in the burrow. I'll sift through the sand, sometimes head first, shoulder-deep inside of a burrow trying to catch insects. I use fresh tortoise dung as bait and have a number of insect traps set out. Most days can be discouraging – I'll spend hours everyday in the hot Florida sun and usually end the day with nothing exciting to report. When my dad asks for updates, he always says, "Are you even doing anything out there?". On the occasion when I do find a rare insect, it feels like a pot of gold. They are insects that can be found nowhere else in the world except inside of gopher tortoise burrows. Many of these declining insects haven't been found in many years and few people get the chance to see them. I feel pretty lucky.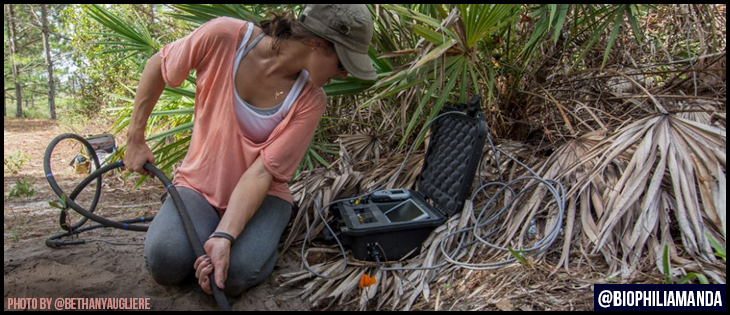 What inspired you to start doing this?
As an undergraduate student at the University of North Florida, I was preparing to apply to vet school and was doing an internship at the Jacksonville Zoo animal hospital. A lot of my time there was spent rehabbing native wildlife and gopher tortoise car strikes seemed to be the most common issue the hospital staff dealt with. This is where I was first introduced to them, but after working with them in a hospital setting, I was interested in getting to know them from an ecological perspective, so I began undergraduate research at my university with Dr. Joe Butler. Having the opportunity to learn about them from a whole new perspective, I was captivated and it sent me down this new career path.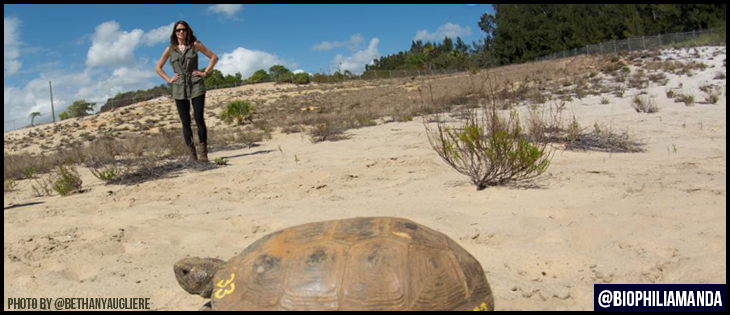 Why do you think it's important – (or how does it benefit the animals?)
I think that every animal, even the smallest insects, have a role to play in an ecosystem. With increased development, pressure to relocate gopher tortoises in south Florida is especially high. Few studies in southeast Florida have surveyed for commensal animals and potentially this area may house a number of previously undescribed species. It's important to know what's here in order to understand the impact they may have on the gopher tortoise.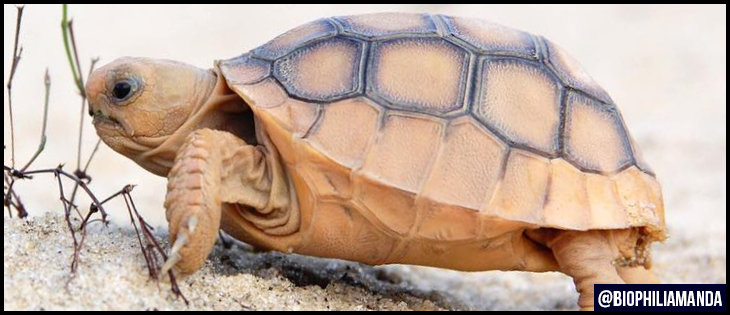 What is the hardest thing about doing this?
We're living in a time where there is a large loss in biodiversity. As a native to south Florida, it's frustrating to see so much habitat loss and development.
What is the most rewarding thing about it?
The most rewarding thing for me is meeting people both in and out of the field that share similar interests. It has connected me with so many people that I wouldn't have otherwise crossed paths with.
What if others want to help but don't want to go into the field. How can they help?
The most important thing one can do to help gopher tortoises is to be an informed voter. Support local officials that value natural resources. Saving the species will require cooperation from many people including government officials, private landowners, ranchers, and developers. Conservation of land also includes land management and one important tool for management is fire. Continue learning about the gopher tortoise and use the power of your network to inform and inspire others.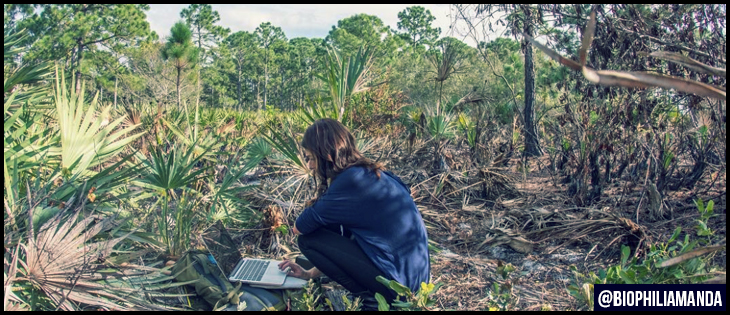 Finally, do you have any advice for a young student wanting to study something like this?
There are many different careers in wildlife conservation, so spend some time exploring what your interests are. Gain hands-on experience via internships or part-time jobs and gear your coursework toward the relevant sciences.
Want to Learn More?
If you're intrigued by the work Amanda does and the gopher tortoise she follows, I encourage you to learn more about work others are doing via this Untamed Science video made at the Jones Center at Ichauway.